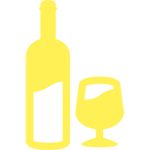 Welcome to our information page on planning an executing a successful wine tasting tour in the Napa Valley area. You're lucky to find yourself in this spot of California, as the area is ripe with wineries, literally! Sacramento is found right near it all, the rolling hills of Napa Valley and the panoramic views that come with it, cozy lodging, all of popular wineries you've been dying to try, as well as the nightlife that surrounds it. There's so much to do and see in this impressive area, and we're here to help you get to it all in a safe and stylish manner. Think about it, there's no other company in the area that has the experience with winery tours that we hold! If exploring is something that you and your friends and family like to do, you'll find adventures at every turn in Napa Valley, California.
Using a party bus for your Napa Valley Limo Rentals is possibly the best decision you could make regarding a night out or spontaneous day trip. Why limit your winery tour to one winery when you could visit all of your favorites in one day? Not to mention, with a party bus, there are no worries about finding a designated driver if you've had too much to drink. Similarly, the worries of traffic, directions, and getting there on time are all thrown out of the window. Your driver focuses on getting you to your destinations while you focus on having the best time possible with our convenient amenities such as granite countertops, flat screen televisions, and impeccable sound systems with subwoofers. Be sure to test out all of your newly purchased wines while you're traveling, you know, for science! Check out our party bus options below.
You might be a local looking to get a taste of the magic that has surrounded you for years, or perhaps you're a tourist who has flocked to this area specifically for the wine. Either way, it's certain that there's going to something for you to enjoy, whether it's a tour, kayaking, a spa visit, hot air balloons, golfing, concerts, shopping, farmers markets, or whatever you have in mind! There are tons of wineries in the area, so you might find it hard to narrow down the seemingly countless selections in the area, but that's where we come in. We've put together information on the locals favorite places to enjoy a wine tasting, as well as where to find them exactly, and some wine tasting tips for those first-timers. One thing is for sure, once you've finished studying our guide, you'll feel like a wine aficionado!