Get surpised with the most luxurious service
Are you craving an efficient luxury service that grants an affordable price too? We are a party bus company in San Jose that stands out for providing a specialized luxury transportation service. Party Bus San Jose offers a wide selection of well-maintained party buses and limo rentals for any special event. There is no time to lose; you are at the right time and place to hire a deluxe service.
Usually, our customers get surprised by the excellent service we provide. With unbeatable prices, up-to-date models, 24-hour support, and all days availability, we have successfully established our business as one of the most proficient in the Bay Area. Use our San Jose party buses for a birthday party, bachelor/bachelorette party, wedding day, prom night, and other perfectly suitable events. What are you waiting to be part of the fantastic San Jose Party Bus experience?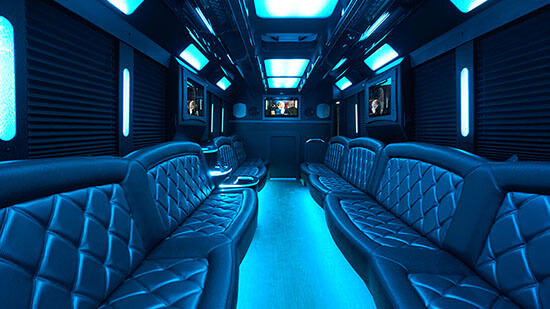 30 passenger party bus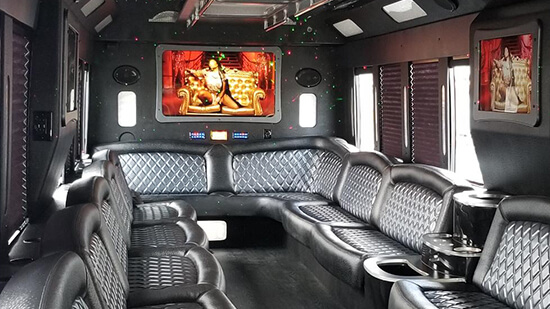 Spacious party bus interior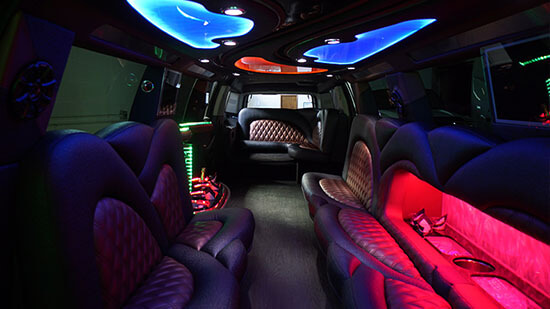 20 passenger limo bus lounge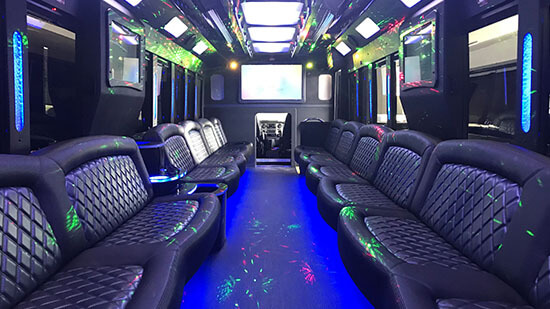 Leather seating
---
Incredible custom features
Even if you still need to get reasons to party, consider hiring a party bus for your upcoming event is not a matter to ignore. A San Jose party bus will be equipped with the best amenities to entertain your crew independently of their tastes. With cutting-edge devices, comfortable seats, and ample lounges, our luxury vehicles complete your satisfaction, even before starting your ride. Enjoy your party times with friends and family and create together a mix of party enthusiasts.
Traveling for a long time could be exhausting; luckily, our San Jose party buses and limo buses include wet bars with coolers to quench your thirst. Be creative and throw incredible wine tours with friends using our beverage features, don't worry about getting tipsy; we ensure your safety and well-being on your party bus ride.
Create an environment for entertaining viewing with our high-end devices. The celebration atmosphere will increase if you and your friends accompany your blast with high-quality images from our televisions. Additionally, find a DVD/CD player, USB compatibility, and WiFi to take advantage of your rental. Get the party started with a movie time or cheer up your friends to play karaoke; any activity will be incredible anyway.
One of the favorite features that a San Jose party bus customer looks for in a desired service is the vibrant interiors. With fiber optic lighting of the best quality, our vehicles guarantee entertaining spaces where anything can happen. Don't restrain yourself and make an unforgettable neon experience in a place that only guarantees exclusivity and relaxation.
Don't hold back putting your music low; our vehicles include powerful sound systems to make your parties more entertaining. Get an authentic festival mood and let loose on the dance floor until you burn your feet at the rhythm of the music. We successfully cover your rides in a limousine service where every noisy moment lasts enough to feel wholly entertained.
Top-notch party bus models
In San Jose, CA, you can find luxury limos, taxis, and car rentals for your rides. However, our state-of-the-art vehicles are the perfect choice if you are eager to hire a luxury vehicle. Any car could ride you anywhere, but just a few are exceptional to perform exclusive trips. With a careful selection of the best models, our fleet includes broad party buses, sleek limousines, and glamorous limo buses.
Check how we provide the ultimate options for luxury transportation in the Bay Area with one click. Select our big San Jose party buses to carry large groups of people comfortably. More modest vehicles would be more suitable? Then, rent our limo buses for 25-30 passengers, but remember that a shuttle bus is ideal if you travel with a small crew. If you are interested in our limousine service, choose our Cadillac Escalade limos, perfect for personal or short group trips.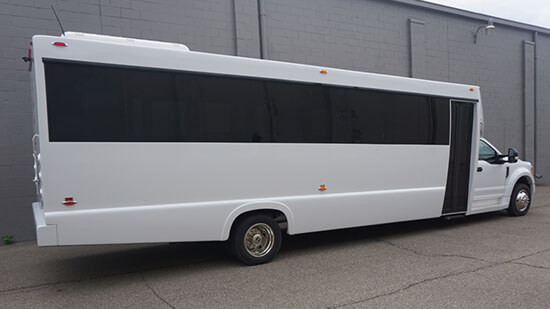 Stunning limo bus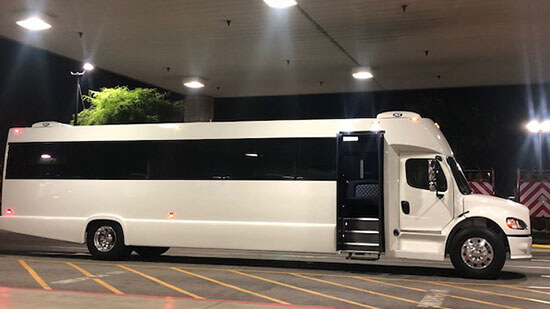 45 passenger party bus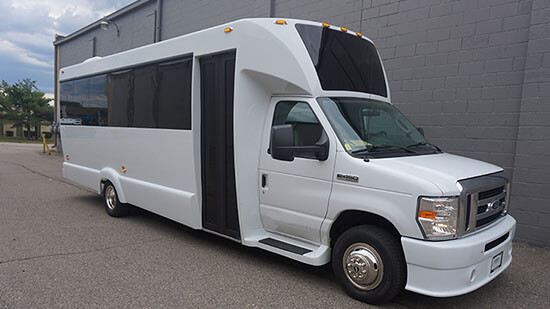 25 passengers limo bus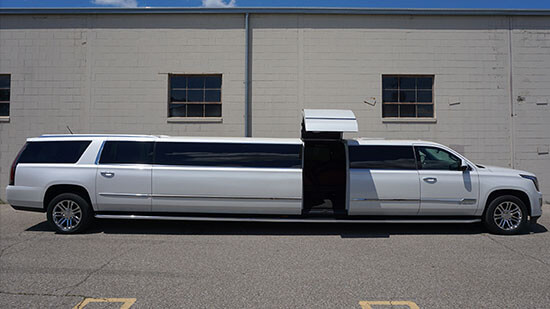 Stretch limo service
---
Follow us to your special occasions
Hiring a luxurious vehicle makes every special event a milestone of memories and fun moments. Usually, customers tend to rent our party buses and limousines for their bachelor/bachelorette parties, school dances, music events, or sporting events because they know our services ensure total diversion. No matter what, traveling on a San Jose party bus is the perfect excuse for any wine tour in the Bay area cities. Because a party bus San Jose has enough seating capacity for different crew sizes, your guests will find only excellent moments traveling onboard. There is no better place to blast for your birthday parties than a Hummer limo, especially for quinceaneras. But if you need a service that can hold guests and gifts without restraining the space, hire our limo buses to get a spacious lounge.
Make memories with friends and family while you travel on the most elegant car services in San Jose, CA, at a reasonable price. We offer gorgeous wedding limos and limo party buses to let you celebrate unique occasions such as weddings. Even your guest will arrive sumptuously aboard our striking limo buses. Congratulations on your marriage.
Stop thinking that any regular bus could take your office crew to your corporate transportation. Choose our service of charter buses in San Jose and provide your guests with the comfort they deserve. As endless celebration possibilities exist, there are the same chances to enjoy our luxurious services.