Hire a wonderful party bus service with us
Welcome to the most exciting transportation method in Stockton and the California Bay area. If you think a luxurious service is ideal for your upcoming event, you are accurately correct! Getting a Stockton party bus rental was never so easy for us. First, decide which event will be the holder for your upcoming event, whether bachelor party or prom night; we have just the perfect vehicle for each. Once you have decided, check our catalog for the vehicle that best suits your needs.
Don't waste time looking for a car service that won't guarantee fun, affordability, and luxury. We are experts in providing a complete transportation service with those characteristics that we know our customers in Stockton, CA, always look for. Our party bus company offers an excellent option for any resident or traveler who wants to view the city and its incredible benefits. Pack your party staff and prepare to experience the most extraordinary party bus ride to any special occasion.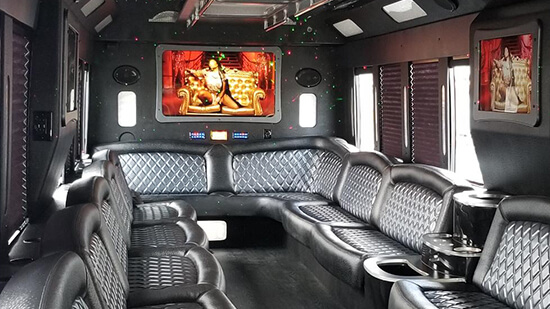 45 passenger party bus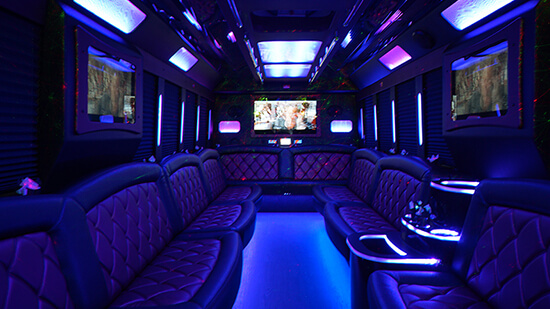 Spacious party bus lounge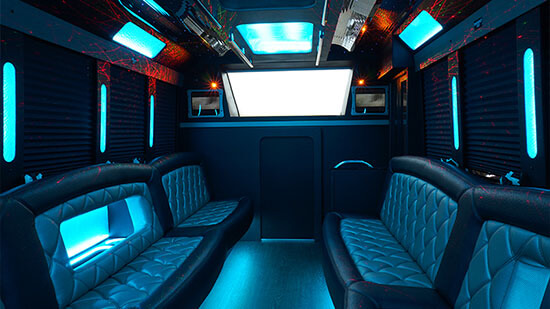 25 passenger party bus interior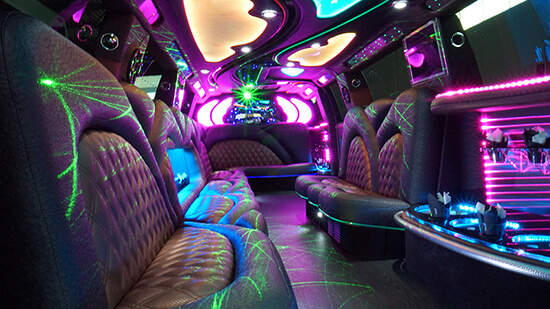 Limousine interior
---
Complete transportation services
When a customer looks online to hire a service, whatever the topic is, one of the principal characteristics to decide on is their features. We are pleased to offer the latest amenities that an excellent party bus and limo rental must provide.
With stunning interiors and exteriors, our vehicles complete the fancy experience of traveling to any special event. But a luxury car wouldn't be the same without its stylish design, so our limousines, party buses, and limo buses grant stunning inside and out features in every rental. Our Stockton, CA, vehicles are always in excellent condition and come equipped with clean seating, an air conditioning system, and hidden free.
Create a fabulous neon atmosphere for your special celebrations with our stunning lighting system. Find impressive moments with your closest friends dancing and twirling around the interior while the atmosphere gets warmer. Get electrifying moments with friends aboard our party buses where every moment is a reason to party hard.
About your willingness to celebrate pleasantly, our Party Bus Stockton is a specialist in stress-free vehicles. Leave your preoccupations in the house and relax in our party buses and limo services. If you want to take some drinks, you won't have to stop in a bar; our stunning wet bars are supplied with coolers that will satisfy everybody's thirst.
Watching exciting movies and funny videos while you ride around Stockton, CA, sounds like a good plan, don't you think? If you enjoy having a background recording at your party, you will love how our flat-screen televisions display images with the best quality. Get to experience a complete luxury trip with cutting-edge devices.
Banging around your party bus or limo bus won't bother anyone; that's another advantage of hiring a service. With the advantage of constantly moving, your music can sound loud and with no stopping, as do your celebrations. Keep moving with the best vibes that only a Stockton party bus rental can provide.
Stunning vehicles? We've got them
Choosing the right vehicle for parties and special celebrations can take time, considering the number of offers online. However, when it comes to deciding between a regular car service and a luxury party bus, our deluxe vehicles always win.
A current great option for luxury transportation must guarantee one crucial thing: top-notch vehicles. Our exclusive fleet includes party buses for small, medium, and large-capacity groups, so you don't have to worry about space. If your crew is large enough to fill a charter bus of 50 passengers, this one is the service for you. But if you prefer a smaller option for a family trip, hire a shuttle service with party buses of 15-20 passengers. Of course, our limo buses and limousines are exquisite choices for sophisticated events where arriving dripping style is essential. Our limo buses have a medium-sized capacity, while our limousines are suitable for groups of 10 to 20 passengers. We are always ready to inform you about our stunning entertainment vehicles; keep in contact with us and start your special events on the right foot.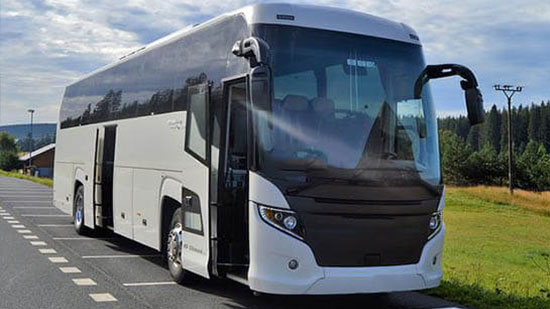 Charter bus service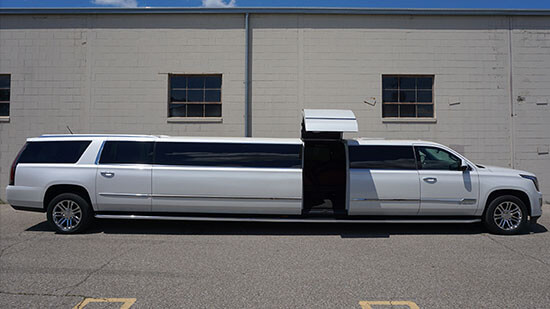 Stretch limousines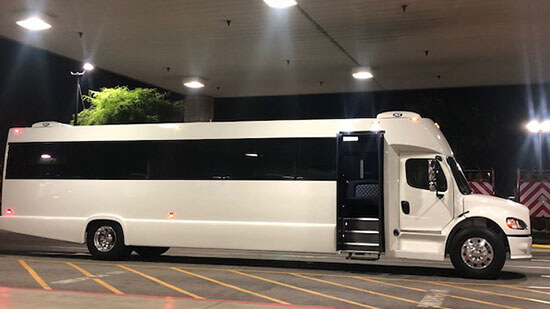 Broad party bus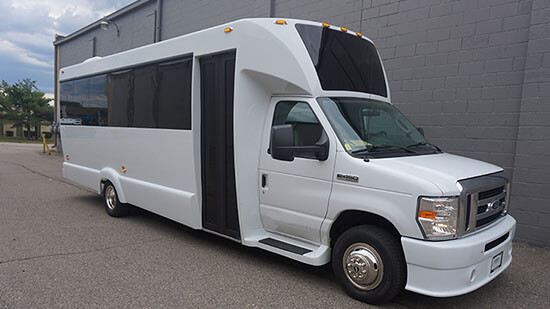 25 passengers party bus
---
Party hard in any occasion
Celebrate special events on a party bus Stockton can turn your guest's mood into endless zest. How have we become such good hosts? With incredible vehicles that adapt to any party situation. No special event can turn off the diversion; every party is ideal to be experienced with great pomp.
Fall in love with our Stockton limousine service; no better vehicles are offered for a romantic wedding day. However you decide to enjoy your luxury trip, our limo service in Stockton is incomparably sumptuous and essential for your memorable special occasions. Hire our stretch limousines for a bridal ride to the wedding reception; inside, you can take a delightful glass of champagne.
In your bachelor/bachelorette parties in Stockton, our party buses will perform complete rides of amusement for the most enthusiastic people. An easy example is how your girlfriends will get fascinated with the Hummer limo service you hired for your bachelorette party. Now imagine taking an exciting trip to wine tours in the area's beautiful vineyards. Never worry about the distance; we successfully cover a wide range, including many Bay area cities. There is no excuse to avoid taking a Napa wine tour.
Travel relaxed to any destination in Stockton, CA, and surprise your new contacts with the best town car ever. Another reason to be in the city is an executive business. For corporate events, whether you travel alone or with a company, our corporate transportation offers elegant vehicles with all the amenities to fulfill your expectations.